Just a few hours away from Las Vegas lies the famous Grand Canyon in Arizona, formed by the erosions of the Colorado River. Located about 280 miles from Las Vegas, this UNESCO World Heritage Site is also a National Park.
Grand Canyon National Park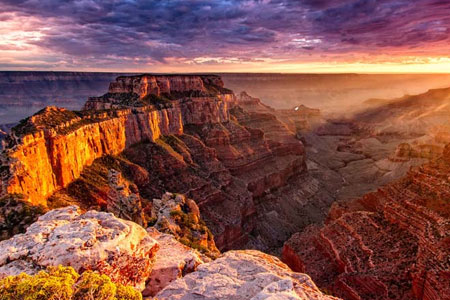 Spread over an extensive area, the Grand Canyon National Park is a perfect picnic spot for a weekend getaway with friends and family. The canyon has several viewpoints offering scenic and spectacular views of nature. It has various entry points as it is widespread over a big area. Here, you can also enjoy ranger programs, backcountry camping, river boating, and many such activities.
The SKYWALK – Located on tribal lands and managed by the Hualapai Tribe, the world-famous Skywalk is the key attraction of this national park. Overlooking millions of years of geological history, the Grand Canyon Skywalk is a horseshoe-shaped cantilever bridge with a glass walkway. Built on the edge of one side of the canyon, the skywalk towers a height of 4,000 feet.
Canyon

Tour from Las Vegas

Over a Google map, the Grand Canyon may not appear far from Las Vegas, but it is actually a 4-hour drive from the Las Vegas Strip. Therefore, it's 8 hours on a round trip, even if you spend no time at the canyon. Covering it on a day trip can be extremely tiring. Thus, we recommend an overnight halt which will make the excursion relaxing and pleasant. We also recommend taking a Hoover Dam Tour as this dam comes is on the way to the Grand Canyon from Las Vegas.


Going with groups for outings is fun. The unending gossips and chit-chats will double the enjoyment. Hiring a party bus for the Grand Canyon Tour is an ideal and inexpensive option. These luxury party buses have ample seating capacity that can comfortably accommodate up to 40 passengers at a time. These buses also have amenities like a LED screen, music system, mini-bar, dance floor, restroom, etc.

Strip Key Limo is a professional party bus rental service in Las Vegas operating for the past 20 years. We are one of the most trusted brands offering safe and affordable limo transportation in Nevada.