Zion National Park is the first national park of the state, located in Southern Utah. Situated 160 miles from Las Vegas, you can cover it in a one-day trip. Plan a Zion National Park Tour from Las Vegas and be ready for an adventurous day with your family or friends.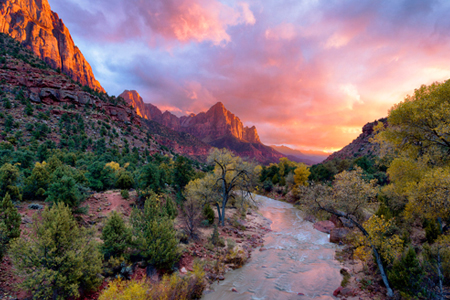 Zion National Park
With its gorgeous red-tinted surroundings, Zion National Park allows exploring various incredible and breathtaking things. These include dramatic red cliffs, towering waterfalls, narrow slot canyons, and quiet meadows. The sweeping vistas, towering white temples, and ancient rivers add to the incredible treasure of the place.
Out of the many stunning highlights, the 15-mile-long Zion Canyon stands apart with its mix of red, white, and pink hues. A tributary of the Colorado River, the Virgin river has carved the 2500 feet high trench that ends up with some incredible flora and fauna on the Colorado Plateau.
Things to do
Trekking
Hiking
Canyoneering
Rock Climbing
Spotting Wildlife
Jeep Tours
Scenic drives
Biking
Watching the Sunset and Sunrise
Visiting Museums and Brewery Pubs
Camping
Fishing
Walking Riverside
River Rafting
Helicopter Tours
HIKE THE NARROWS
Hiking is one of the best things to do in Zion National Park, with The Narrows being one of the coolest hikes. The 16-mile-long trench is a massive canyon of red rocks carved by the Virgin River.
ZION HUMAN HISTORY MUSEUM
Visit the fascinating Zion Human History Museum and get an indoor break from the sizzling summer sun of the region. The museum is small but interactive, narrating the story of human habitation and evolution in Zion National Park through ancient times.
Zion National Park Tour from Las Vegas
Do visit Zion National Park whenever you come to Vegas. Book a tour of Zion National Park from Las Vegas and enjoy hiking the various trails, overlooking the scenic landscapes. The 160-mile drive of Zion National Park day tour from Las Vegas takes around 2.5 hours. So, it gives you plenty of time to discover the beautiful destination. To book a Zion National Park Tour with Strip Key Limo, call +1 (888) 539-0084.
Recommendation – Don't forget to visit the St. George Utah Temple in the largest city of Utah, St. George. It is a beautiful Mormon church and the oldest operating temple.