A dream destination for many, Las Vegas is known for its dazzling nightlife. The casinos, pubs, bars, and discos make many a repeated visitor to this Sin City. But, do you know this amazing city of Las Vegas is also a house of several natural tourist attractions. Red Rock Canyon, Grand Canyon, Valley of Fire, etc are a few attractions that will get you spellbound by its beauty.
Valley of Fire State Park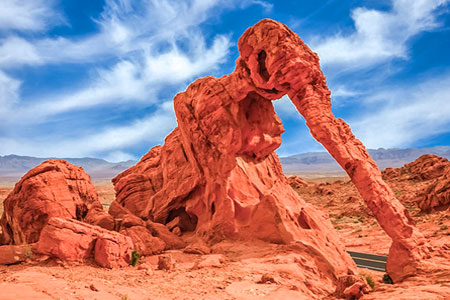 Covering nearly 35,000 acres of North East Las Vegas, Valley of Fire is the oldest state park of Nevada. Established in 1935, the Valley of Fire state park is one of the famous tourist destinations in Las Vegas. It is a natural formation of red Aztec sandstone formed from the great shifting sand dunes during the age of dinosaurs. The state park offers panoramic and mesmerizing views of nature.
The centerpiece of the park's attractions is the features that appear to be on fire while reflecting the sun's rays. Several activities and shows keep happening in the park each day. You can get information about these shows at the kiosks or from the state park staff. The state park also has a visitor center exhibiting information on geology, ecology, and prehistory. If you wish to spend a relaxing time with your group, you can plan an overnight stay at the park. The park is open 24 hours a day and 7-days a week.
If you plan to visit Valley of Fire with friends or family, we highly recommend you book a party bus. Party Buses are big in size and can accommodate more people comfortably. Strip Key Limo has party buses that can seat up to 40 passengers at a time. All our party buses have amenities like a mini-bar, LED screen, disco lights, dance floor, music system, restroom facility, etc.
To book a party bus online, call +1 (888) 539-0084