Built between 1931 and 1936, the Hoover Dam is a concrete arch-gravity dam. Located at the border of Nevada and Arizona, it was initially named the Boulder Dam. It is one of the most common tourist places for visitors to Las Vegas. This miraculous structure is a major American landmark that marvels visitors with its size and craftsmanship. If you happen to be a tourist to Las Vegas, this place is a must-visit for you.
The Hoover Dam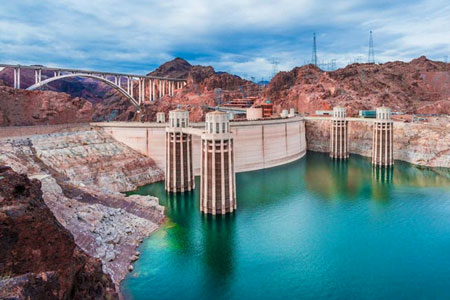 The Hoover Dam is built on the Colorado River to harness hydro energy. It took five years (from 1931 to 1936) to erect this massive construction. It is one of the top-most engineering achievements in human history. This historic landmark continues to draws millions of visitors each year even after several decades of its construction. The colossal design, the craftsmanship, and the scenic views will surely make you a repeated visitor.
The famous Hoover Dam is one of the most pioneering and thrilling man-made marvels in the United States! This tour is truly astounding and is perfect for people of all ages, including families with children. To have an in-depth experience, you can purchase tickets to take a guided tour deep down into the Hoover Dam to see the power plant and the museum. Besides breathtaking vista views, you can also enjoy spectacular photo opportunities.
Let Strip Key Limo handle your transportation needs for the tour. We have a wide-ranging fleet of stretched limousines, luxury sedans, SUVs, and premium party buses that can accommodate up to 40 passengers at a time. You can book a vehicle of your choice online from our website. All our luxury vehicles come with a professional, well-trained, and licensed chauffeur. Rest assured your trip will be safe and fun-filled with Strip Key Limo.
Note: The entire Hoover Dam Tour is of 4-hour starting from your hotel. The tour doesn't have any stop in between, and you will be having a 1-hour stop at the dam. If you wish to stay longer, we will charge in 30-minute increments.